Farmer Jones Farm is part of The Chef's Garden, which was started by the Jones family in northern Ohio along the shores of Lake Erie. Today, under the guidance of "Farmer" Lee Jones and Bob Jones, Jr.—who continue to be inspired by their father Bob Jones Sr.'s, legacy—the farm team grows delicious and nutritious farm-fresh vegetables, herbs, microgreens, and edible flowers for families like yours. They use regenerative farming techniques for healthy soil, healthy crops, healthy people, and a healthy planet. 
Meet Farmer Lee Jones
"We'd long believed that if we grew for maximum flavor, we'd bring the nutrient levels up right alongside the taste, and we're happy to see that research confirms the nutritional value of what we're growing."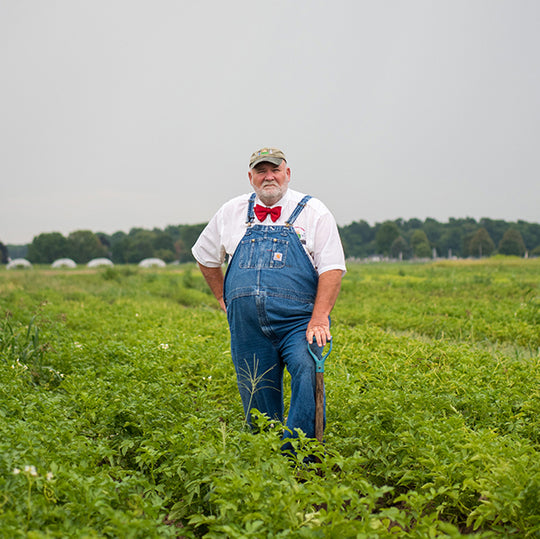 Farmer Lee Jones always wears his trademark overalls and red bowtie as a symbol of his commitment to regenerative agricultural practices. Ever since the early days of The Chef's Garden's creation over thirty-five years ago, he has remained tirelessly committed to not only ensuring that the family's three-hundred-acre farm remains one of the most innovative and pioneering in the world, but to fostering a nuanced conversation with the chefs in our industry who look to the farm to grow vegetables that are as aesthetically pleasing on the plate as they are flavorful to the palate.
He is devoutly committed to the chefs he works with in all corners of the world and takes great pride in the relationships he has with the people who have become his mentors, guiding light, and inspiration. These are the bonds that have inspired the highest quality, most flavorful, and extraordinary vegetables in the world—and for Farmer Lee Jones, every day promises a new opportunity to connect with the chefs who have helped to make the farm the pioneering leader in regenerative agriculture that it is today.
Read his full bio here. 
Meet Bob Jones, Jr. 
"We grow vegetables and have done so all our lives. It's all we know. Our business, though, is really about helping other people . . . [including] people with health conditions who want to eat a diet that will help them; and families who want to feed their children a healthy diet that includes fresh vegetables."
Bob Jones—who is the co-owner and CEO of The Chef's Garden—wears many hats with each one focused on enhancing the farm's regenerative practices, ones that make the farm one of the most respected in the world. He champions the farm's cutting edge food safety and food quality programs and continues to be devoutly committed to its pioneering efforts to grow exceptional vegetables. 
He works collaboratively alongside the farm's amazing professional team, grateful to serve as a mentor in farm operations, farm food safety, packaging, shipping, employee immigration, and sustainable energy practices. In addition, Bob understands the importance of fostering relationships and working in synchronicity and mutual respect—and he puts that into practice with home cooks who order fresh products from Farmer Jones Farm and chefs alike; the farm's international team members; vendors; and more. 
Active in state and national industry organizations for decades, Bob works closely with his brother—Farmer Lee Jones—and the entire farm team in an interconnected way with a commitment to ongoing success.
Read his full bio here.

You can also read the bio of Farmacy Director Dr. Amy Sapola.